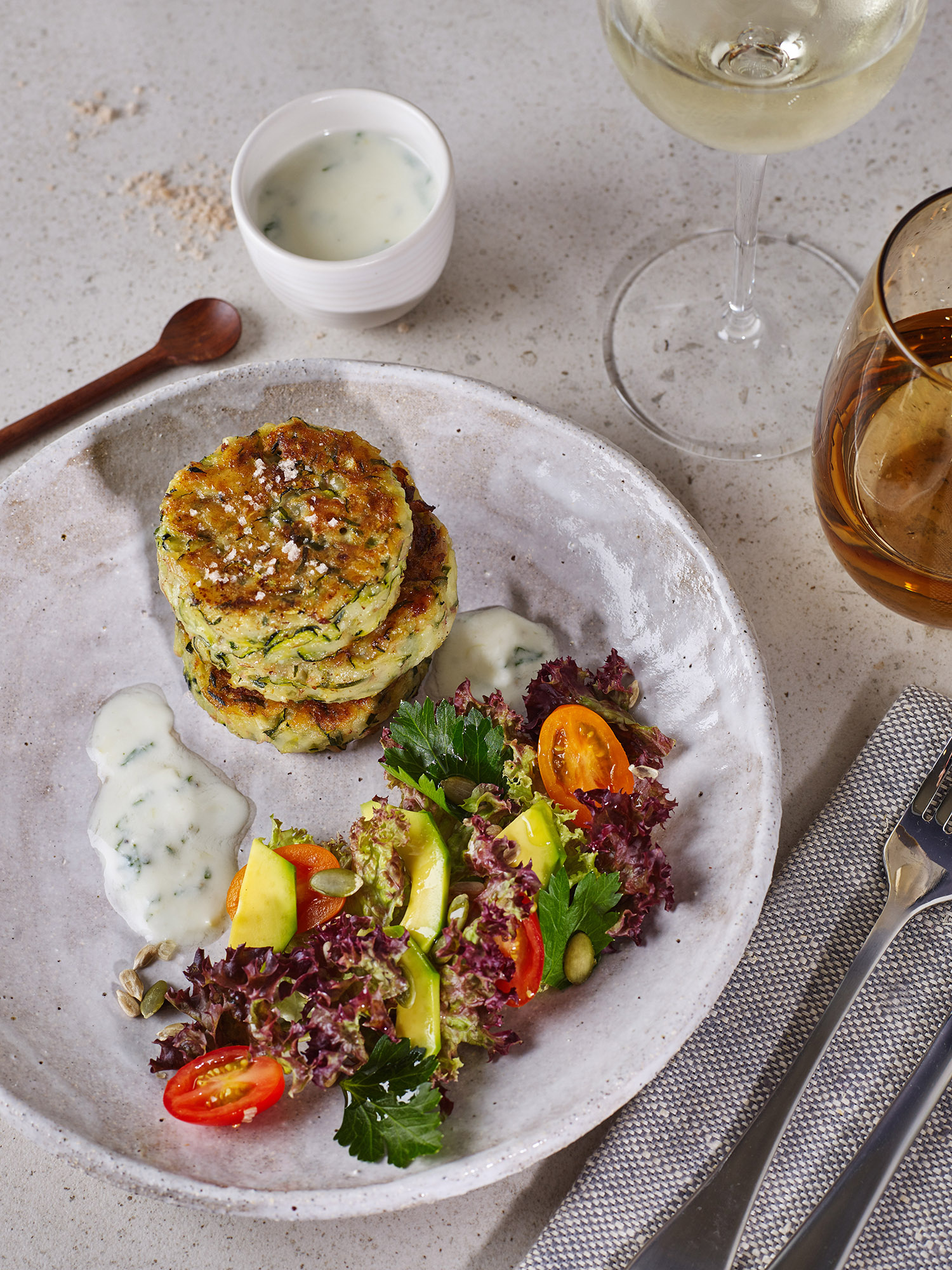 Zucchini Roesti
with Salad of Tomato, Avocado, Toasted Pepita Seeds, Kefir Minted Dressing
Zucchini Roesti
Makes 6 roestis
1 medium zucchini, grated
1 garlic clove, finely diced
2 large désirée potatoes, well washed,
and grated
2 tbsp plain flour
1 sprig thyme leaves
Salt and pepper to taste
Extra-virgin olive oil for frying
Method
1. Using your hands squeeze out as much liquid as possible from the potatoes and zucchini, discard the liquid.
2. Place all ingredients in a large mixing bowl and stir to combine well. Season to taste.
3. In a large non-stick frying pan add a tablespoon of olive oil and bring to a medium heat.
4. Spoon half the potato zucchini mix into 3 egg rings placed in the pan. This will help form your roestis.
5. Cook for 4-5 minutes on each side until golden brown and cooked through.
6. Remove eggs rings and transfer the cooked roestis to a plate lined with paper towel.
7. Repeat steps 3-6 to cook the remaining roesti mixture.
Kefir Minted Dressing
1 cup Blue Bay Kefir
½ clove of garlic, finely diced
Zest and juice of one lemon
8 mint leaves julienned
Salt and pepper to taste
Method
Combine all ingredients in small bowl
and season to taste.
Tomato, Avocado, Toasted Sunflower
and Pepita Seed Salad
Baby roma tomatoes, halved
Thin avocado slices
Curly leaf lettuce, leaves picked
Continental parsley, picked
Toasted sunflower and pepita seeds
(one has a husk, the other not)
Extra-virgin olive oil
Method
Arrange on salad ingredients on a plate, scatter with sunflower and pepita seeds and drizzle with extra virgin olive oil.
To Serve
Arrange 2-3 roestis stacked on a plate.
Serve with a generous amount of kefir
minted dressing and tomato, avocado, toasted sunflower and pepita seed salad.