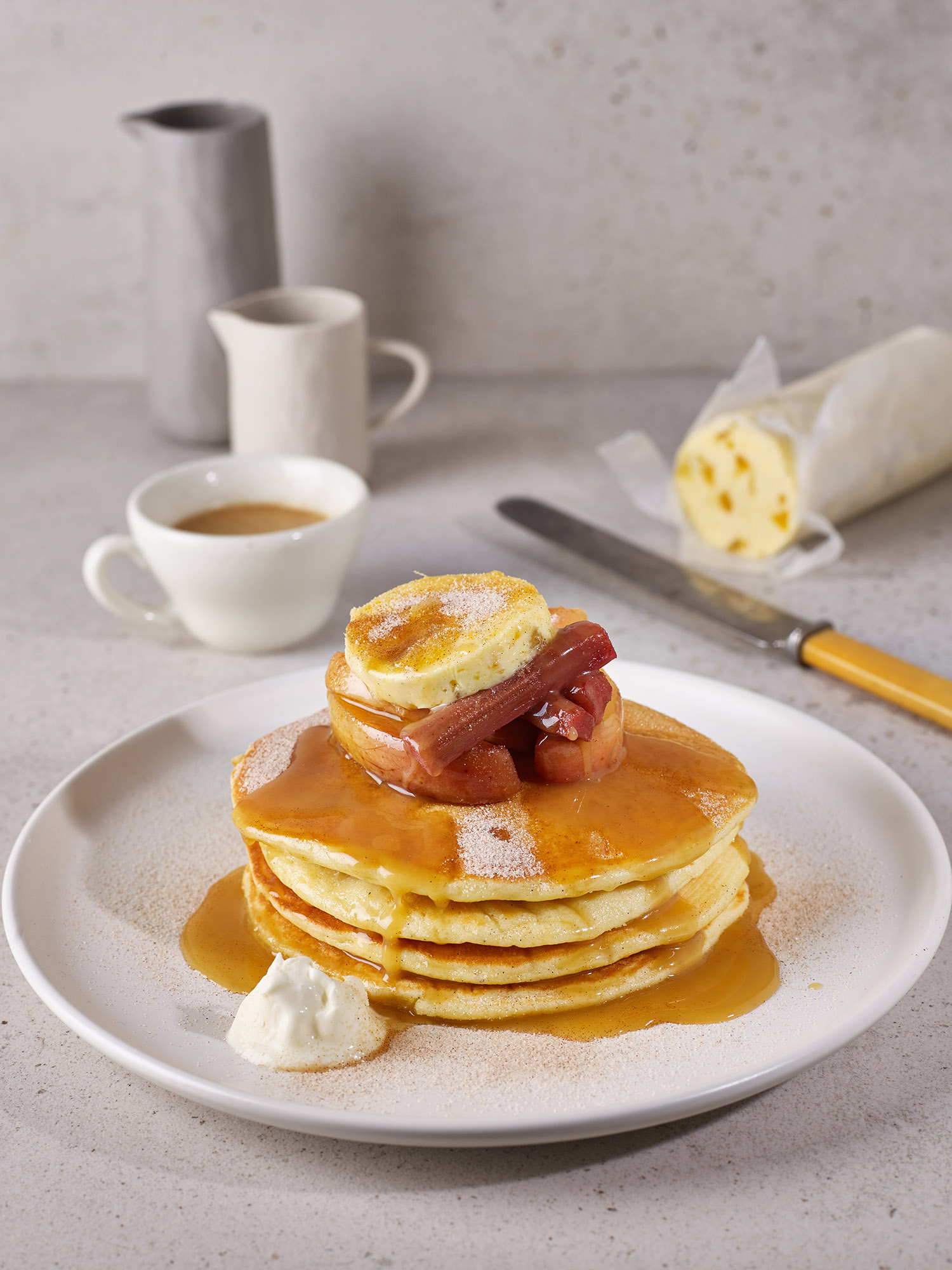 Kefir Pancakes
with Crystalised Ginger Butter, Calvados Apple and Rhubarb Caramel and cinnamon sugar
Kefir Pancakes
Makes approximately 10 medium-sized pancakes
110g self-raising flour, sifted
1 tsp baking powder
25g caster sugar
180ml Blue Bay Kefir
2 large free-range eggs, separated
1 tsp vanilla paste
Blue Bay Kefir and cinnamon sugar to serve
Method
1. Place sifted flour, sugar and baking powder in a large bowl.
2. In a large jug add kefir, egg yolks and vanilla paste. Whisk until well combined.
3. Slowly pour the kefir mix into the bowl of flour and whisk into a smooth batter.
4. Place egg whites in the bowl of an electric mixer, whisk on high until stiff peaks form.
5. Using a spatula gently fold the stiff egg whites into the batter.
6. Place a large non-stick frying pan over medium heat.
7. Spoon heaped tablespoons, 2 or 3 at a time, into the pan and cook for 3-4 minutes on each side until golden.
8. Continue until all batter is used, stacking cooked pancakes on a warm plate.
Crystalised Ginger Butter
300g unsalted butter softened at room temperature
50g crystalised ginger, roughly chopped
½ tsp vanilla paste
Method
1. Place softened butter into the bowl of an electric mixer.
2. Using the paddle attachment, whip the butter at a high speed until it becomes pale in colour (approximately 5 minutes).
3. Reduce the mixer to a slow speed and add the vanilla paste and crystalised ginger.
4. Continue to whip until well combined, switch off mixer and turn out the butter onto a 30-40cm square sheet of baking paper.
5. Roll the butter into a log using the baking paper to help form and hold its shape. Twist ends to make a seal. Refrigerate until firm.
Calvados Apple and Rhubarb Caramel
3 tbsp unsalted butter
4 red apples, cored and cut into eighths
4 sticks rhubarb, lightly peeled to remove stringy textured skin then cut into 4cm batons
½ cup calvados wine
½ cup brown sugar
½ cup thickened cream
Method
1. In a large frying pan over a medium heat, add butter.
2. Once the butter has melted and begun sizzling, add the apples flesh side down – evenly arranged in the pan to ensure consistent cooking of each portion.
3. When the apple portions begin to colour, turn over and cook for a further two minutes.
4. Sprinkle brown sugar evenly over the apples and continue to cook until sugar has dissolved.
5. Deglaze the pan with calvados and reduce heat to a slow simmer. Continue cooking until the liquid reduces slightly.
6. Add the cream, stirring with a wooden spoon, being careful not to squash the apple segments.
7. Add rhubarb to the pan and continue to cook until the rhubarb becomes slightly soft while retaining its shape.
8. Remove the pan from the heat, set aside and allow to cool slightly.
To Serve
Assemble a stack of pancakes on a plate and add cooked apple and rhubarb pieces drizzled with calvados caramel sauce. Top with a generous slice of crystalised ginger butter and dress the plate with a dollop of Blue Bay Kefir and a dusting of cinnamon sugar.