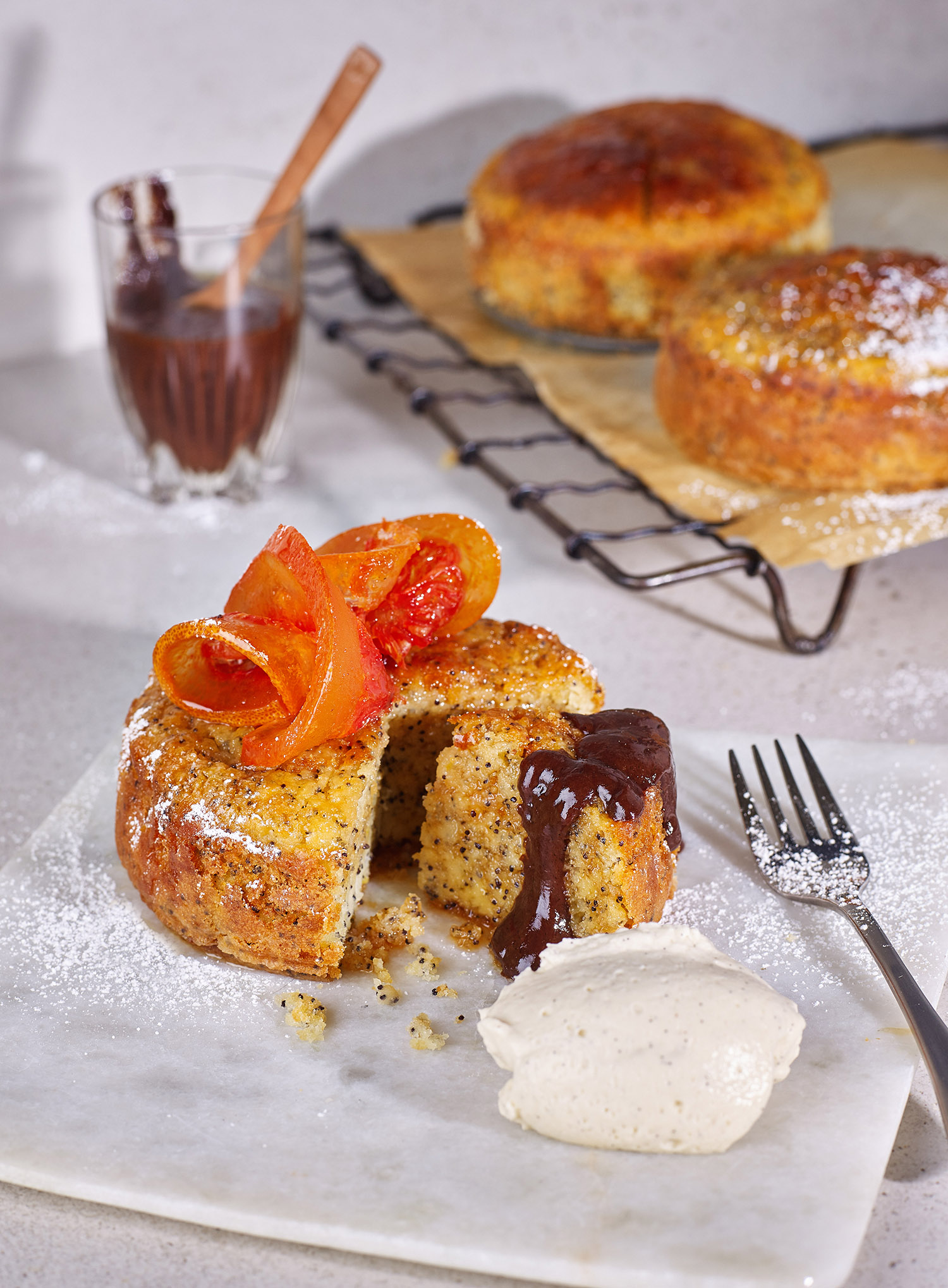 Blood Orange, Poppy Seed Kefir Cake
with Spiced Hot Chocolate
1⁄₃ cup poppy seeds
¾ cup Blue Bay Kefir
2 cups self-raising flour, sifted
200g unsalted butter, softened
Zest of one large blood orange, finely grated
3 large free-range eggs
½ cup blood orange juice
[For Cake Syrup]
½ cup caster sugar
1 cup blood orange juice
Preheat oven to 160C
Method
1. Grease and line baking tins. (This recipe will make one 20cm round cake or 3 small individual cakes as pictured).
2. Mix the kefir and poppy seeds in a small bowl and set aside.
3. Place butter, sugar and orange zest in the bowl of an electric mixer and mix until well combined.
4. Using a spatula, scrape the side of the mixing bowl to ensure that ingredients are well combined.
5. Add eggs one at a time to the mixing bowl and continue to beat at a medium speed.
6. Add flour and slowly add orange juice and the poppy seed kefir mixture while continuing to mix.
7. Transfer the cake batter to the lined baking tins and bake for approximately 40-45 minutes.
8. While baking, create a simple blood orange syrup by adding orange juice and caster sugar to a small saucepan over a low heat. Cook until sugar is dissolved. Next increase the heat and bring the syrup to the boil and cook for 5 minutes or until thick. Remove from heat and set aside.
9. Once baked, remove the cake(s) from oven. Using a skewer, make a few holes in the cake(s), then pour over the syrup.
10. Allow cake(s) to cool on a wire rack.
Spiced Hot Chocolate Sauce
Makes 300ml
200ml thickened cream
½ vanilla pod, seeds scraped
1 cinnamon quill
1 star anise
1 tbsp caster sugar
½ tsp nutmeg, ground
½ tsp cardamon, ground
Pinch salt
50g unsalted butter
150g 70% cacao chocolate
Method
1. In a heavy-based medium saucepan place all ingredients and warm over a low heat.
2. Stir continuously with a wooden spoon until chocolate and sugar have melted and mixture becomes glossy.
3. Remove from heat and allow to cool to room temperature to allow flavours to infuse.
4. Strain the spices from the chocolate sauce.
To Serve
Dress your cake(s) with candied orange slices and drizzle with spiced hot chocolate sauce. Serve with chilled vanilla cream.